Join the digital revolution in civil engineering with our Joint Institutional Executive master in Digital Twins (Pending accreditation). Co-funded by the EU and granted by some of the most prestigious European Civil Engineering universities, and part of the Advanced Digital Skills – Digital Europe Programme.
Designed for professionals and young engineers with a passion for digital transformation in civil engineering, smart cities and related fields, our program provides comprehensive training in the key digital technologies used in digital twins for infrastructures, the ability to conceive digital twins to address specific challenges in infrastructure planning, design, construction, operation, and management, and the skills to identify business opportunities created by digital twins.
Benefit from blended online and in-person learning, weekly conferences with industry experts, and recreation of capstone projects mentored by our partnering top industrial and public companies.
The Joint Institutional Executive Master diploma will be issued by issued by the leading European engineering universities UPM, ENPC, BME and ITÜ (*). This diploma is equivalent to a "Máster en Formación Permanente" (Spain), "Diplôme d'établissement" (France), "Mesterfokozat" (Hungary) and İstanbul Teknik Üniversitesi Uluslararasi Ortak Tezsiz Yüksek Lisans" (Turkey)
Applications will open after April 15 for the first edition starting in October 2023.
Executive master targeted to professionals in the built environment.
Online sessions plus three onsite meetings (Thu-Sat) in Madrid, Paris, Budapest and/or Istanbul.
An institutional master jointly issued by four of the leading European Civil Engineering universities.
You will develop real capstone projects under the mentorship of our industrial partners.
Our joint institutional Executive Master in Digital Twins for Infrastructures and Cities is designed for professionals with an engineering or architecture degree or equivalent and a few years of experience in construction, civil engineering, architecture, transportation, and related fields. This includes civil engineers, urban planners, architects, construction and asset managers, building operators, infrastructure owners and operators, service providers and consultants.
The program is also suitable for young engineers looking to specialize in digital twins at an early stage of their career.
Whether you want to enhance your skills, expand your career opportunities, or make a difference in the digital transformation of infrastructure systems, our master's degree will provide you with the knowledge, skills, and networking opportunities you need to succeed.
We welcome applications from motivated and talented candidates from all over the world who share our vision of a smarter, more sustainable, and more connected future.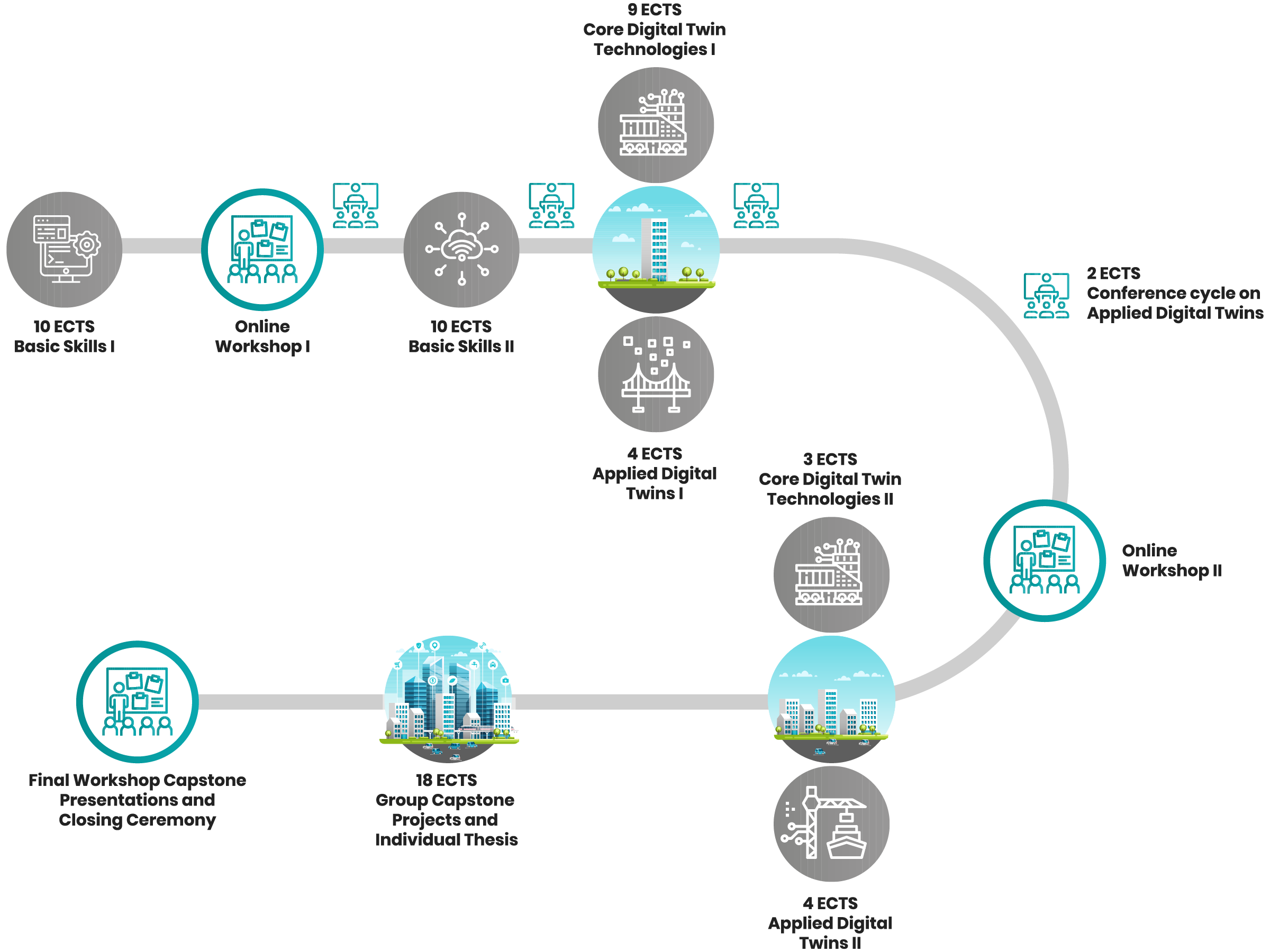 With our joint institutional Executive Master in Digital Twins for Infrastructures and Cities (Pending accreditation), you will:
Our faculty of leading professors from top European universities and our partnering companies will guide you through three main modules and weekly conferences, culminating in a 60 ECTS degree that combines online and in-person learning with a learn by doing approach.
Sessions will be regularly held online during the master during the evening of weekdays (regularly between 5pm and 8pm CET). The onsite events will consist of 2-3 days workshops, conferences and networking events that will take place in November, February and June/July.
The Executive Master is led by a team of experienced and distinguished faculty members from some of the top universities in Europe. Our professors are experts in the fields of Civil Engineering, Data Analytics, Artificial Intelligence, Telecommunications, etc. with extensive knowledge and practical experience in the application of digital twins to the industry. They are passionate about teaching and guiding the next generation of engineers to become leaders in the field. Meet our team of exceptional faculty members who will be teaching and directing in the program.